Golden Rock Stupa, Myanmar (Burma)
The incredible balancing stupa at Kyaiktiyo, or "Golden Rock", is one of the holiest sites in Myanmar. Pilgrims from around the country travel great distances to visit the site and press gold leaf to the rock as an offering.
Good Luck Getting There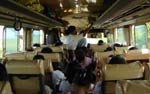 The journey to Golden Rock follows a classic Myanmar recipe:
Take one dilapidated public bus that has no a/c and needs a push-start
Pack bus well beyond capacity; use plastic children's chairs in the aisles to accommodate extra passengers
Place bus atop narrow tracks of soft dirt and sand
Gouge dirt track every 2-3 feet with large cracks and potholes
Sprinkle bus interior liberally with exhaust, dust, and sand
Bake at 90° F for 5-30 hours
Big Guns in the Village
The village at "base camp" had charm enough to compensate for the journey. Oddly, several shops in the village sold enormous bamboo replicas of AK-47's and RPG missile launchers, all stamped with USA or RAMBO.
The Journey Continues
From base camp, the Rock is still a 30-minute truck ride and 45-minute climb away. The trucks are pickups with bench seating; they managed to cram 44 people into the back of my truck. The roads up the mountain are amazingly steep, but our driver handled them with amazing skill.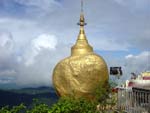 Why Does it Always Rain on Me?
The cloud cover was heavy as we hiked up the remainder of the hill. It didn't actually look threatening, but it was definitely bad light for photography.
Spectacular in Any Light
Enormous, precariously perched, and gleaming proudly, the rock is spectacular in any light. My first glimpse validated the whole journey.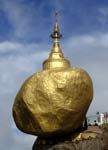 Story Behind the Rock
Legend has it that a hermit had a hair from the Buddha. He gave the hair to a king who had supernatural powers. The hermit told the king to find a boulder the shape of the hermit's head and then enshrine the hair inside a stupa at the top of the rock. The king found the boulder at the bottom of the sea and used a ship to bring it to the top of the mountain. It's cargo unloaded, the ship promptly turned to stone.
It's best not to sweat the details or inquire any further into the story.
"I'm Converting to Buddhism"
Miraculously, the clouds parted fifteen minutes into our visit, and the morning sun hit the rock at a perfect angle. This window of sun lasted for about 20 minutes – just enough time to take some video and photographs. "This is a sign," said Dave, a fellow Chicagoan I'd met in Yangon. "I'm converting to Buddhism."
Posted on November 21, 2002 09:47 AM