Lawless, Chaotic, Fantastic Phnom Penh, Cambodia
The scene at the ferry landing set the stage: fifty shouting men stood just behind an iron containing rail, vying to latch onto the backpackers and whisk them away to guesthouses. A group of men surrounded me as I walked through the throng; desperate hands tugged on my bags, limbs, clothing. The shouting was frantic: "Simon's guesthouse! Very good! By the lake! Ganja! Girls! Whatever you want!" My cousin Mike was getting the same treatment several paces ahead of me. The hands kept grasping, kept pulling. The cluster of touts moved in tighter. Panic and anger welled up in me. "Why you touching me?" I shouted - a blanket statement that reached no one. To escape the madness, Mike and I finally chose two touts (thus rewarding their aggressive behavior), hopped on the back of motorbikes, and sped down the streets of Phnom Penh. The traffic was perhaps more chaotic than the ferry landing fiasco.
Phnom Penh, the capital of Cambodia, is the rawest, most lawless, most chaotic city I've ever been to.
A Stony Safe Haven

From the boat landing, our drivers took us to a dumpy guesthouse on the Boeng Kak, a lake on the northwest side of the city. Even though the rooms were just $2 a night, Mike and I were less-than-enthused about staying in plywood boxes, so I went on a reconnaissance mission while Mike watched the bags. After looking at several "same-same-but-different" guesthouses (including one that was actually called the Same Same But Different Guesthouse), I stumbled upon the Number 9 Guesthouse, a relaxed and comfortable safe haven with rooms built on balconies over the lake.
It was only later that we realized how "relaxed" the Number 9 really is. Sitting at a table, enjoying large Angkor beers, talking about our chaotic entry into the city, Mike and I were approached by a guesthouse waiter: "Would you like some marijuana with your beer?"
Also, there were a suspicious number of Khmer girls pouring out of the guest's rooms each morning.
"Moto? Ganja? Shooting? Girls?"

The streets in Phnom Penh are crowded with motorcycle taxi drivers who solicit travelers incessantly, always with the same approach:
Moto Driver: Taxi?
Me: No thanks.
MD (slightly lowered voice): Ganja?
Me: No thanks.
MD: Shooting? You like shooting?
Me: Already been shooting.
MD: Girls? I know very good girls. Very young. Very Cheap.
Me: No thanks – (making sign of the cross over chest) Christian.
MD (defeated): Oh. (drives away)
Cousin Mike came up with the Christian Defense, and it worked like a charm; we soon began drawing the cross over our chests as soon as drivers approached:
MD: Taxi?
Us: No thanks – Christian.
MD (confused, defeated): Oh. (drives away)
The Christian Defense seemed to be the only thing that could convince touts that we weren't dope-smoking, gun-nut, prostitute-enthusiasts who hate to walk.
A Predator's Paradise

Prostitution is rampant throughout Cambodia, and it's at an all-time high in Phnom Penh. There are notorious brothels on the north side of the Boeng Kak where sex sells for as little as $3. More upscale sex workers crowd tourist bars and clubs and offer their bodies for $10-$20.
It was disarming and a little frightening to walk into a pool hall and have 50 Khmer and Vietnamese girls look my way with smoldering eyes. John, a North Carolinian who accompanied us for a night out on the town, summed it up when he said, "This place is just like the bars at home - except women here dig me."
Tragically, Phnom Penh is also well-known for its underage sex workers, and is a popular destination for pedophile sex tourists. Authorities have supposedly cracked down on this crime in recent years. And woe be the predator who can't bribe his way out of a jam: they don't separate foreigners or sex offenders in Cambodian prisons.
Police & Mafia: "Same-Same But Different"
Police and government corruption is a well-known fact of life in Cambodia. Fifty bucks can get you out of any jam. More lamentably, ordinary citizens often have to make cash payments ("tax") to get their water turned on or phone lines installed.
One day, on the way back from the shooting range, a motorcade of Land Rovers passed my moto on the highway. By way of explanation, my driver, who called himself Mr. Perfect, said: "Government official." He laughed and then added, "Gangster!"
Nightmare Tourist Attractions
The two big tourist attractions in Phnom Penh concern the atrocities of the Khmer Rouge: The Killing Fields of Cheoung Ek, where genocide victims were slaughtered by the thousands, and the Tuol Sleng Museum, a high school-turned-prison which became the largest center of torture in the country. Visits to these important sites seem at first a stark contrast to the life-in-the-fast-lane mayhem of the city; later it becomes clear that the catastrophes in Cambodia's recent history are precisely the reason for the lawlessness and disorder today.
An Extended Stay
In spite of all the mayhem – or, more likely, because of it – Mike and I extended our stay in Phnom Penh. It was exciting to just be around all the madness; participation was by no means compulsory. And, in spite all of the lawlessness, I never felt that I was in any real personal danger.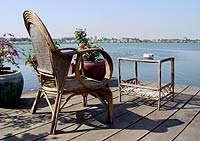 For me, the appeal was in the contrasts. In the mornings I'd step out of my clean $4 room have a tranquil breakfast on the lake. I'd then hop on the back of a motor scooter for a terrifying ride across the polluted city to a museum dedicated to genocide. Later, while sifting through bootleg DVDs at the Russian Market, I'd set aside a pocketful of small change to give to landmine victim amputees on the street. After another helter-skelter moto ride ("Helmet? Why would you want a helmet?"), I'd tuck into a fantastic $2 Indian meal of curry and chapatti. I'd then dodge the drug dealers ("Christian!") on the way back to the Number 9, where I'd meet up with a group of ragtag Europeans to drink beer hold mock United Nations debates.
Isn't this what travel's all about?
Posted on January 26, 2003 12:26 AM