The Thousand Temples of Bagan, Myanmar (Burma)
Bagan is a mystifying and fantastic deserted city in Myanmar that contains thousands of ancient Buddhist temples and pagodas (Buddhist monuments). The structures were built between the 11th and 14th century and today have a weathered, primeval quality about them. Constructed of earth-colored brick, the structures glow red in the setting sun.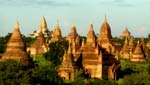 Trial by Earthquake
A massive earthquake rocked Bagan in 1975, leveling hundreds of temples and damaging many more. Most of the damaged structures have been restored, and thousands of temples still dot the landscape.
Fairytale Landscape
I first glimpsed the temples of Bagan as my riverboat ferry from Mandalay neared the Bagan landing. Seeing the ancient, earth-colored structures perched proudly upon the river bluffs transported me back in time. But it wasn't until I stepped atop my first temple that I realized how magical Bagan really is. From that perch I could see hundreds of pagoda and temple towers stretching off to the mountains in the distance.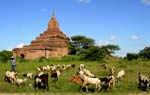 A Spotty Recent History
Like many (most?) places in Myanmar, the government has laid a heavy, clumsy hand on Bagan. In 1990, the government decided to relocate all the families in the historical district of the city. This announcement came abruptly, with residents given just one week to pack up their lives and move to nearby "New Bagan".
Restoration?
The restoration work done on many of the time-worn and earthquake-damaged temples looks pretty shoddy up close, with too-new brick and thick, sloppy mortar work. It's clear that the government or whoever doesn't recognize the allure of a ruin.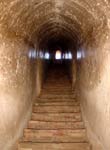 Indiana Jones for a Week
I spent a full seven days in Bagan. Each day I'd rent a bicycle and pedal through farmland, villages, and wild brambles to explore remote, magnificent structures. I'd often be the only visitor at a temple; exploring the quiet interiors and climbing dark, narrow stairways were true Indiana Jones moments.
You Should Visit Too
Bagan is a dream destination for photographers, archeologists, anthropologists, architects, wannabe explorers, and curious onlookers. The place is magic, one of the true wonders in Asia.
Posted on November 21, 2002 09:51 AM