Time Out in Koh Tao, Thailand
Although the waves had calmed considerably as the ferry neared Koh Tao, the Italian beside me continued to barf into a clear plastic bag. It had been a rough journey from mainland Thailand to this island, but, from the looks of things, it was worth it.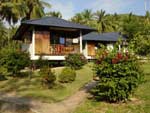 Turtle Island
Green, mountainous, and lush with palm trees and pineapples, Koh Tao (literally "Turtle Island") is a small island in the Gulf of Thailand. Only recently inhabited, the island now sees around 100,000 visitors each year because of its popularity with divers. The island still feels small and natural, though, with dirt roads, deserted beaches, and handsome wooden bungalows with unreliable generator-supplied power.
Mad for Nitrogen Narcosis
Like most people, I came to Koh Tao for the diving. Dive shops seem to outnumber people here. During the days the island feels empty; everyone is out on dive boats.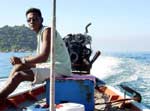 Long Tails
The best way to get around the island is on a traditional long tail boat. These slender ships are powered by what look like motorcycle engines. The engines are attached to one end of a 10 foot steel shaft, the propeller's at the other end. Drivers manipulate the whole engine rig to navigate out of the shallows and through narrow inlets.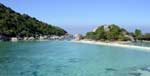 Topless on Nangyuan
Neigboring Koh Tao is a little island called Nangyuan that has a unique triple-connecting beach. It's the only place in the world where three sandbars meet. Or something. There are a handful of posh bunglalows on the beach that, from the looks of things when I was there, cater exclusively to topless Europeans.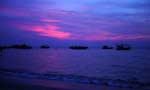 Such Sweet Sorrow
I leave Koh Tao this evening on a nine-hour overnight ferry. I'm sitting in a hammock as I write this and, from here, the sea looks calm. But you never know. I've packed a few plastic bags for the journey, just in case.
Posted on October 15, 2002 05:58 AM